Winter Concert 2014
Once again there was standing room only at the Round Chapel, for Gayhurst's Winter Concert . Every child in the school had a part in the performance. For the Nativity, 300 children from Nursery, Reception, Year 1 and 2 performed, delighting the audience with their clear narration, fabulous costumes and enthusiastic singing and dancing.
Children from the rest of the school went on to perform dances, African drumming pieces and a variety of songs, impressing everyone with their performances. The event closed with the whole school coming together to sing James Brown's 'I Feel Good', which had everyone up on their feet dancing!
A big thank you to all the children and staff who worked so hard to make this such a great event. Well done all !!
The concert was very well received with a huge turn-out of parents and carers. Here are a few of the comments made at the end of the event: "The children worked really hard preparing for this and it was a resounding success"- Adam, class teacher of 2A. "The African drumming and dancing was amazing – it was great to see both boys and girls dancing enthusiastically"- Jane Kilburn, parent governor with children in years 3 & 6. "I really enjoyed the concert, especially the Nativity – the costumes and singing were wonderful!" – mother of Adam in 2A, who played Joseph. "I liked everything about it – the younger children's performances were so lovely. I really enjoyed it!" Parent of children in Yr 6, Yr 1 and Nursery. "Amazing – I loved the African drumming. I thought the drummers had real spirit to them this year" – parent of Maya in 5A. "I loved it when everyone was singing together" - Grace pupil in class 4L. "I really liked dressing up as one of the innkeepers" – Sute, pupil in 2A."Our favourite bits were the song Fame and 6C's dancing" said pupils Eliza and Tomie in 5/6E. "I liked the acting and singing in the Nativity – they were really good and so sweet" Leda in 5/6E. "I loved the African drumming"- Ellis in 4L.
A write up of the Winter Concert was featured on the front page of the Hackney Gazette, as well as a lovely photo of the Nativity cast inside.....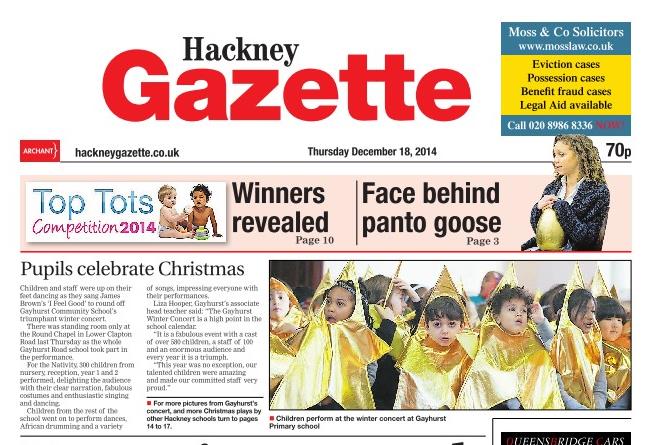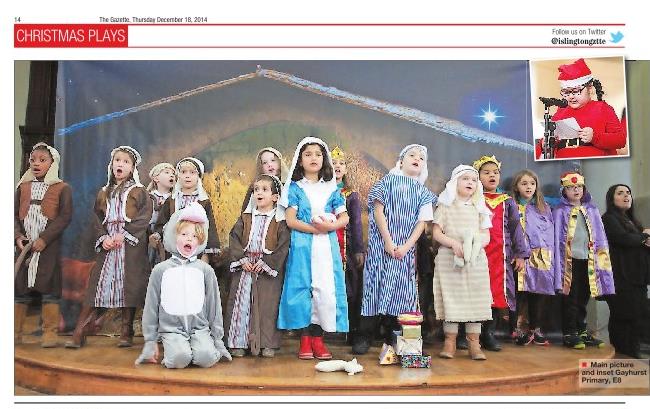 You can find lots more lovely photos of the event in our Photo Gallery section of the website.