5C Visit Hop Farm in Kent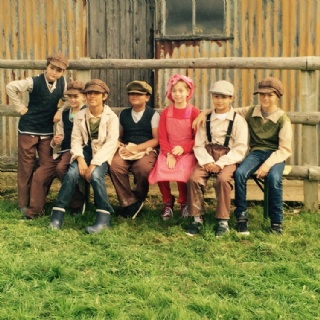 Find out all about the fantastic trip 5C recently made to a Hop farm in Kent....
Recently 5C visited Hobbs Hill farm to discover what life was like for hop pickers. Throughout the day, we took part in different activities. Our day started with carrying a heavy bucket of water to wash ourselves. Luckily for us, we didn't have to bathe with cold water! This was followed by getting into our roles by dressing up as though we were hop pickers. We even gathered some wood from the forest to cook our evening meal, which was a selection of either rabbit stew or vegetable soup. Finally, we used watercolour pencils to draw the surrounding landscape and then had hot chocolate while we sang a song together.
Hamida - I enjoyed picking wildflowers for our memory sticks. I really felt like a country girl.
Noa - Carrying the bucket of water was a great experience. I realised how difficult it must have been for hop pickers to have a bath.
Lila- I really enjoyed the whole experience!
Tom - Dressing up as a hop picker was my favourite part of the day. We even got to take professional photos.
Aran - I loved being able to run around in the open field! We don't get a chance to do that in London!
A big thank you to the Garden Classroom who arranged the trip for us - it was great!