5A's Daytrip to a Hop Farm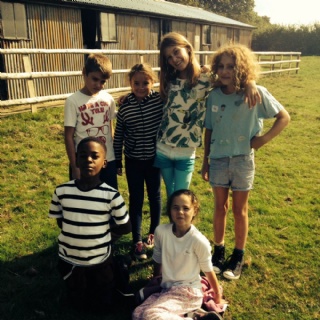 5A had a fantastic trip to a hop farm in Kent, to learn about the hop picking tradition where London families would spend the whole summer picking hops in the 1940s & 50s.
5A met at 8.30am on Tuesday to get a coach all the way to Kent. Our first destination was Bough Beech Nature Reserve. We were greeted with a glass of elderflower and some apple juice and met the owners of the reserve. We visited the beautiful orchard, led by the orchard caretaker, Lynn. She was really knowledgeable and told us all about the different kinds of apples and we got to taste some really juicy, sweet apples. Some of us were lucky enough to see some grass snakes! Then we went on a senses walk and identified different trees. After lunch we went bird watching, visited a hop house and learnt how hops were picked and prepared from a woman who had picked hops when she was young.
Next stop was a farm visit, but not just any old farm, it was a hop farm where families from London used to stay during the summer to pick hops in the 1940's. We saw the huts that they stayed in and watched an interview with two hop pickers. We collected wood for the fire, cut vegetables for a stew and made cheese sandwiches. Finally we sat down in a tent and ate rabbit stew, vegetable stew and had some hot chocolate and biscuits. We had some time for some games before getting back on the coach to London.
"It was the best trip ever!'' said 5A. "It was great because there was so much space and freedom out there.'' said Joe and Max. "I want to go and camp there,'' said Tiargo. ''Jumping on hay bales was really fun,'' said Alba. ''It was so good that I fell asleep on the coach on the way back,'' said Leah. ''It was really fun, collecting wood then seeing the stew being cooked and then getting to eat it and I loved smelling the hops too'' said Lori. ''I loved watching the birds'' said Anouk.
A big thank you to The Garden Classroom who organised the trip for us!
More photos of the trip are in the Hop Farm photo album in the Photo Gallery section of this website.