The Captain's Table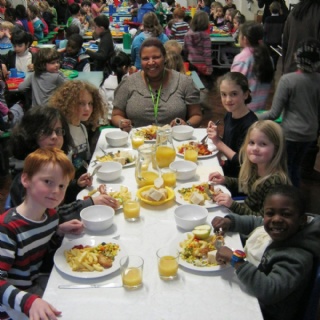 At lunchtime children from Reception up to Year 6, who follow all of our dining hall rules, have a chance to gain an invitation to eat at the Captain's Table
At lunchtime children from Reception up to Year 6, who follow all of our dining hall rules, have a chance to gain an invitation to eat at the Captain's Table. This is a very special table, set up in the dining hall every three weeks. It has a table cloth, glasses, china plates and bowls, a bread basket, juice and a special desert made by Simon our chef. A member of school staff is invited to eat with the children.
To be in with a chance of an invitation, children who follow the dining hall rules are given a special ticket which they put in box. There is no limit to how many tickets children can receive and lots of our children earn one a day for amazing behaviour.
Every three weeks names are pulled out of the box. In the Thursday assemblies, chosen children are awarded a golden envelope with their invitation inside.
Gayhurst Dining Hall Rules
• We remember to use good table manners
• We use a knife and fork
• We always walk in the dining hall
• We put our hand up if we need help
• We always talk in a quiet voice and wait our turn to speak