#TAG 10th Exhibition opens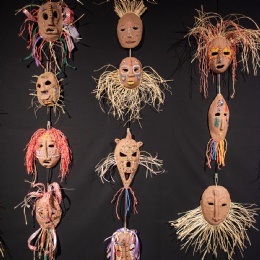 The 10th exhibition at #TAG art gallery - Year 5 & 6's GUILDS OF BENIN exhibition, recently opened....
Thursday 30th January 2020 saw the opening of the 10th exhibition at #TAG art gallery with the exhibition GUILDS OF BENIN. The work has been produced by the children in Years 5 & 6 and is based around their work studying Ancient Benin. The work is particularly striking and the writing that accompanies the work showcases the abilities of our children - the level of debate they have engaged in, in deciding whether artefacts should remain here or be returned. The opening night saw parents & carers come together to celebrate this work. "It's impressive to see the children discussing such topics" said a parent in Year 6, "the work could be in any gallery across London". The children hosted the entire event and did a brilliant job at serving food, collecting tickets and collecting views of their work.
The gallery is open daily from 3:30 – 4:00pm so please do call in and see it.