2012 Winter Concert at the Round Chapel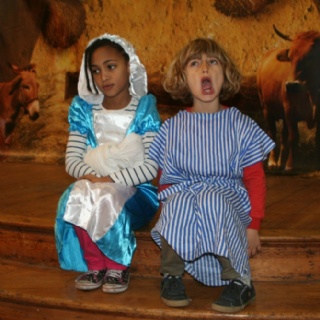 The Round Chapel was filled with colour, song and exuberance at Friday's Winter Concert.
The Round Chapel was filled with colour, song and exuberance at Friday's Winter Concert. Children in Years 1 & 2 gave a fantastic performance; acting, narrating, singing and dancing their way through the re-telling of the Nativity Story and Reception Class & Nursery were fabulous Angels. The whole school joined in for some of the songs, with 'Reach for the Stars' raising the roof.
Next up were the Spoken Word performances from classes 3E, 3A, 3/4A, 4N and 5/6W who have been working with our poet in residence, Joelle Taylor. Well done to all who took part in the hugely ambitious polyvocal piece involving 150 voices and especially to Lucy, Jess, Aleyna, Sarah, Romel and Sadiya from 5/6W for their solo performances of poems they have written.
The concert finished with dance and drumming performances from classes who have been working with Steve Bewes and Miss Harley. 6L opened with a Socca dance and song, followed by 4L, 5E and 5A with more African dances, songs and drumming. 6C closed with a memorable Disco dance and a dance off between Jay (6C) and Cheryl Jeffers (6C teacher).
The concert was very well received by all with many in the audience giving very positive feedback. Parent governor Kim Robinson commented "Gayhurst's got it's rhythm back!" The parent of a child in 6C felt the show was a "very colourful, relevant and modern approach to the Nativity showing a lot of talent". Helena and Malika from 5A said "the dancing and drumming was really nice and we really enjoyed the little children's acting and singing" and Aimonn in Year 2 exclaimed "I was crying with laughter at the end of the disco dance". A parent with children in Years 2 & 4 confessed "We brought a thermos of tea and some cake to sustain us but we were so totally involved in the show we didn't touch them. It was really ambitious, the best we've seen". Emma Purcell Year 3 teacher and Creativity Co-ordinator felt it was "a really fresh and celebratory show". Another Year 2 parent whose children have been coming to Gayhurst for the last 16 years added "What a fantastic show – without doubt the best ever Gayhurst Winter Concert. There was sheer joy shining from the children. It was a credit to the school".
The Winter Concert was featured in the Hackney Gazette - here is a clipping of the article: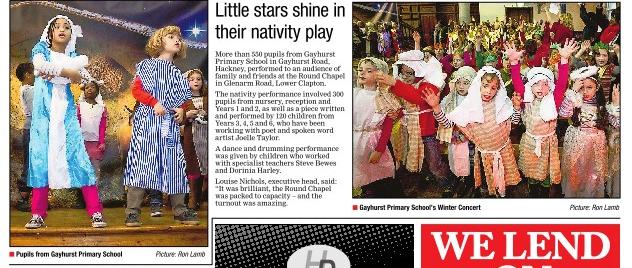 To see more photos go to our Winter Concert photo gallery.